A couple weeks ago, I was looking for a flea and tick medicine that was ok for use on puppies. Most everything I looked at was for puppies over 12 weeks. He was 8 weeks at the time and the vet said to be careful because his skin would be really sensitive still.
So I found this from Sentry, an all natural medicine with ingredients I can pronounce like Clove Oil. Freddy smells so good I want to eat him. In fact, the first time I used this stuff, Grandma was convinced I was baking.
Freddy is getting big. It seems like everyday I look at him his legs and torso are longer. He has a vet check-up this coming Saturday and we'll see if he's put on any weight since two weeks ago when we went to get wormer.
A couple favorites and dislikes for now: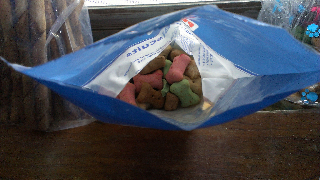 He'll eat these treats if he's hungry, but he's not too crazy about them.
He likes these peanut butter flavored rawhide treats.
I give him the green bone treats after we've been on the farm exploring all day. They're supposed to be good for his breath and teeth. He likes the round peanut butter ones, too. These are from the bulk bins at Petco.
We switched over to Hill's Science Diet. He was on Avoderm for a couple weeks, but that puppy formula only comes in 5 pound bags and we were going through it in a week and a half. Hill's also comes in a 15 pound bag, so less trips to the pet store.