There's the same kind of peace at the lake that there is at the farm. That silence that is seldom interrupted by the far away motorcycle reverberating off the hills or the party boat headed to a swimming cove.
There are beautiful sunsets and cool breezes. And air so pure I wish I could bottle it.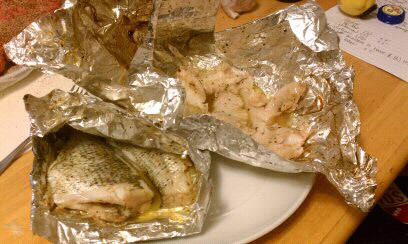 Then there's also the day's catch. This year has been a lot better year for us so far. When I went home for Mother's Day weekend, the Hubs went out to Stockton with a fishing guide and learned which fish to fish for in which areas.
Here we have bass, crappie and walleye. I actually caught fish on Sunday for the first time ever (well except for catfish on the farm a good ten years ago). I had one that was big enough to keep, a 16 1/2" bass, and reeled in probably a dozen more. I didn't realize until we pulled in to clean them that my fish was the biggest catch of the day. I looked in the live well and said "Who caught that huge fish?" and our friend Chris informed me it was mine!