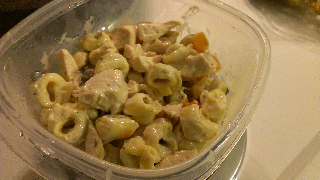 This meal was about sneaking vegetables into the meal. It was relatively quick to prepare, but still gave me time in the kitchen to unwind with kitchen therapy aka chopping vegetables.
Chicken Tortellini Alfredo
3 boneless skinless chicken breasts, cooked and then cut into 1/2"-ish pieces
1 package of dried tortellini, prepared to package directions. (I used a spinach-ricotta tortellini.)
leftover veggies - I used about 4 oz of mushrooms, sliced; and about 6 mini sweet peppers, diced
3 cloves garlic
1 jar Alfredo sauce
Cook the chicken. In the meantime, cook the tortellini.
While the chicken and pasta are cooking, chop up the veggies.
Remove the chicken to a plate to cool. Put the veggies in the pan with a couple Tbsp olive oil to saute and soften.
Once the chicken is cut and the tortellini and cooked (and drained!), add to the pot with the veggies. Add the Alfredo sauce and cook until warmed through.