This is what we did yesterday: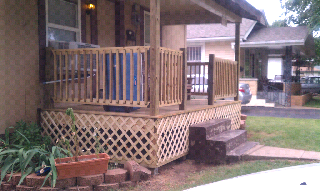 We discussed going to the lake, but then there was rain in the forecast. So we worked on the porch and it ended up not raining. (Go figure!)
A couple months ago I discussed with my Dad how much we thought the porch was going to cost. I thought $500. He thought $1000. Three days of Lowe's receipts totaled $603.
On the menu for the week:
Chicken-Chili Tamale Pie from Food & Wine (I tore it out of the magazine and the page doesn't have the month/year on it!)
Pea and Bacon Risotto from Food & Wine May 2011
On the schedule for the week:
finishing up construction documents for a doctor's office
going to the gym and/or riding my bike a couple days
studying for my CSI CCS exam
Next house project: figuring out what to do with the siding. Do we replace it all with vinyl (ugh, vinyl!) , or do we only replace the pieces that are in bad shape? The Hubs is going to talk to the realtor we bought the house from to get her opinion.