I feel I should preface this with a note that I've thrown away my hard copy of this recipe because the fish cakes are tasteless. If you like your fish cakes to taste like mashed potatoes, then these are for you. Otherwise, I'll share a recipe for salmon cakes sometime in the future that is a lot better! The tomato sauce is really good from this recipe, but I'm not sure how the fish cakes made it through the test kitchen at Food & Wine and INTO a magazine!
Polenta Crusted Fish Cakes with Spicy Tomato Sauce
This is from Food & Wine May 2011.
Sauce:
1 Tbsp olive oil
6 cloves garlic, minced
1 large red chile, seeded and minced (I use a jalapeno)
4 large plum tomatoes, chopped (I used a pint of stewed tomatoes from last summer's canning)
1 Tbsp tomato paste (I used a 4 oz. can)
1/3 c water
1 1/2 Tbsp tarragon
salt
I also added about 2 Tbsp cilantro
In a large skillet, heat the olive oil and cook the garlic and chile until fragrant.
Add the tomatoes and cook until thickened, about 10 minutes. Add the tomato paste, water, tarragon and salt to taste.
Fish Cakes:
3/4 lb Yukon Gold potatoes, peeled and cut into 1" cubes
1/4 c instant polenta (I used old fashioned because that's what I had, but I should have used cornmeal)
1 1/2 lbs skinless cod or halibut fillets (I used frozen Ocean Perch I had in the freezer)
4 garlic cloves minced
2 Tbsp parsley
2 Tbsp cilantro
2 tsp salt (I didn't use this at all)
1 1/2 tsp ground cumin
1 large egg
1/2 tsp crushed red pepper (I used red pepper flakes)
2 Tbsp canola oil, for cooking the cakes in
In a saucepan, boil the potatoes until tender enough to mash. Drain and add to the food processor with the other ingredients. Pulse until blended.
Form 12 patties (I used an overflowing
cookie scooper
for each cake). Cover both sides with polenta and fry for 3 minutes on each side in a nonstick skillet with oil. If needed, add more oil.
Top the fish cakes with the tomato sauce and enjoy! I also had a side salad of mixed greens from the garden and homemade buttermilk ranch dressing.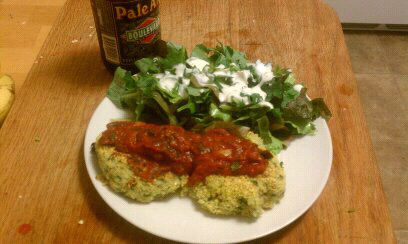 I thought the fish cakes were kind of flavorless. The sauce was tasty though.
Next time (if I make them again):
Add chile pepper to the fish cakes
Use cornmeal instead of old fashioned polenta.
Garden update: I planted 5 pots of artichoke seeds with 2 seeds per pot and put them in the greenhouse. I had to break down and water some of the garden today as it's been in the 90s and no rain for several days.