Something funky is going on with these photos... they look kind of pixelated but none of the settings have changed...
Sunday we worked on the porch from noon until 7. It was a long day! (Oh and we had a Lowe's trip at 11 that lasted almost an hour including travel time.)
At the end of the day, we had a porch that was sturdy and didn't sag even when walked on.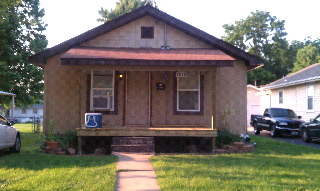 We still have a couple things to do like railings (we bought the ones for the sides but not the front because we decided after we got home that we should do front railings too) and lattice between the decking and the ground. And then!!! I get to start landscaping in front, which is something I've been looking forward to for almost three years! A native plant nursery just opened up near our house and that's my first stop for ideas.